The FR Magazine: Rock & Folk, ≠497


Special Issue of the New year 2009 reviewing 2008 as "2008 in the wall"





This month the column "My disks to me" (

musics selected by one artist)

is dedicated to Françoise Hardy, on the occasion of the publication of her autobiography " Le désespoir des singes et autres bagatelles " (The despair of the monkeys and the other trinkets) at Robert Laffont Publisher, Oct 2008, Paris, already best-seller book of the year in France --among the French-speaking books published in 2008..

Other autobiographies and biographies on Françoise Hardy

Answering about Julien Doré:

" [...] R&F: In your book you say a formidable thing  " it is more difficult to sing for one person than for 10 thousand persons. We see it with the New Star... "

Françoise Hardy: The only artist who went out of this, it is Julien Doré. I find him very interesting.

R&F: He is new small Dutronc...

Françoise Hardy: Exactly. He can make in the cinema, he can make everything. He is extremely intelligent, he has an incredible charisma, he bursts the screen. The first time when I saw him it was in the broadcast of Ruquier. He had not already produce something. His attitude also is incredible. He is not as everybody. [...] "


Quote:

http://www.rocknfolk.com/



Zoom

Mensuel, en kiosque
le 15 du mois



SOMMAIRE 497


Janvier 2009



MES DISQUES A MOI




Françoise Hardy

Isabelle Chelley




NECROLOGIE




Mitch Mitchell

Yazid Manou


Guy Peellaert

Laurent Chalumeau




TETE D'AFFICHE




Miles Davis

Eric Dahan


Indian Jewelry

Jérôme Reijasse


The Police

Jérôme Soligny


The Datsuns

Eric Delsart


Flaming Lips

Basile Farkas


The Cure

Coralie Trinh-Thi




EN VEDETTE




Catherine Ringer

Philippe Manœuvre


Loran

Marc Bihan & Yann Leroux


Paul McCartney

Jérôme Soligny


Keith Richards





EN COUVERTURE




2008

Virginie Despentes




LA VIE EN ROCK




Conte De No Hell

Patrick Eudeline


---



Extract of the page 6 from the article of 7 pages titled "Françoise Hardy The Click" (column "My disks to me")


Click the miniature to reach the size for reading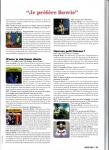 (just near the icon of the

Ersatz

cover)

_._._.__._._._.__._.__._._._._._._____.
Ali No War http://www.myspace.com/alinowar